Courtesy Aircraft has been appointed exclusive sales agent for the rare Fully Standard Certified 1954 AEROCAR. This AEROCAR features folding wings that can be towed behind the automobile while in transit on the road. It also features automobile necessities including a horn and rear view mirror. This is one of five original AEROCARS that exist today.
Interesting Facts:
Cruise speed is 100 mph.
Takeoff speed is 55 mph
It only takes approximately 10 minutes to convert the automobile to an airplane.
Click Here to View the AEROCAR Featured in History Channel' s Modern Marvels
Click Here to View the AEROCAR Featured in Good Morning America in 1988
Click Here to View the AEROCAR Featured in Aerocar Flying Car Invention Newsreel and Stock Footage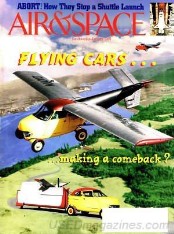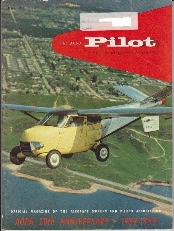 AIRCRAFT SPECIFICATIONS:Engine: Lycoming 0-320, 4 cylinder rated at 150 H.P.
Length Overall (as an airplane): 21 feet
Height Overall (as an airplane): 7 feet 2 inches
Length of Car Portion: 10 feet 4 inches
Length of Trailer Portion: 13 feet
Width of Trailer: 8 feet
Wingspan: 30 feet
Wing Cord: 6 feet 3 inches
Wing Area: 168 square feet
Seat car Width: 44 inches
Gross Weight: 2,100 pounds
Empty Weight: 1,300 pounds
Useful Load: 800 pounds
Payload with 24 gallons of fuel: 656 pounds
Fuel Capacity: 24 Gallons
Oil Capacity: 7 quarts
Service Ceiling: 12,000 feet
Cruising Range: 300 miles
AIRSPEEDS:
Maximum Speed: 110 mph
Cruise Speed: 100 mph
Approach Speed: 55 mph
To learn more, contact:
Mark Clark                                  (800) 426-8783
President and Sales                       (815) 229-5112
Darcy Kaapke
Marketing Director and Sales
Courtesy Aircraft Sales
5233 Falcon Road
Rockford, IL 61109 USA
www.courtesyaircraft.com
Courtesy Aircraft Sales, established in 1957,  has earned the recognition as The World Leader in Warbird Sales. Courtesy has sold thousands of Warbirds including the Boeing B-17 Fuddy Duddy, Lockheed P-38L Putt Putt Maru, Goodyear FG-1D Corsair Marines Dream as well as dozens North American P-51 Mustangs.