When was the last time you were offered a ground school lesson and a complementary flight in a Warbird?
As many Warbird Owners know, there are not many opportunities before you purchase a Warbird to have a ground school lesson and fly such rare aircraft.  Courtesy Aircraft Sales teamed up with Heritage Aero and members of the Trojan Horseman to coordinate an Introduction Day that would include an overview of a post-WWII aircraft trainer with excellent flight characteristics: The North American T-28.
The goal was to give people a taste of what it is like to fly and own a T-28. Needless to say, many people were ecstatic to have been given the opportunity!
On May 6, 2011 Courtesy Aircraft had a full house of curious and excited attendees. The day started with introductions and what a great group of attendees we had! This array of people included General Aviation Pilots, an F-16 pilot and actual T-28 Instructors from the 1950s. There was even a pair of gentleman that instructed the T-28 together over 40 years ago and found each other in the same room!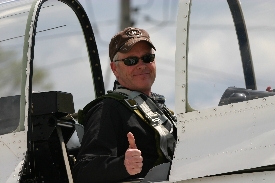 After we finished our introductions, we jumped right into a ground school lesson followed by testimonials of flying the T-28 and Formation Flying. The group then went out to the hanger for a lesson on the T-28 Pre-Flight Inspection followed by a break for lunch.
After a few laughs, the attendees broke into three groups and the flights began in the T-28. All three 1,425 horse power engines roared and each one of the attendees began their complementary flight. After a few hours of flying, everyone had smiling faces and complete satisfaction with their flight. Attendee Steven Spector later commented, "I would like to thank you for having the T-28 Intro Day. It was an informative and fun day. Before attending the Intro Day, the T-28 appeared to me to be too big of a step-up from flying General Aviation planes and a Stearman. However, after attending the class and actually flying the T-28, I felt it was a plane that the typical 1,500 hour, General Aviation Pilot can own and safely operate."
A successful day of ground school and Warbird flying was completed. Mark Clark, President of Courtesy Aircraft stated, "It was a pleasure to give people an opportunity to learn about and fly these pieces of history. It is important that the Warbird community passes down their knowledge to others on their aircraft, and to keep up people's enthusiasm with these vintage aircraft. That way we can continue to see them fly for many years to come."
For more information, contact:
Mark Clark, President
[email protected]
Darcy Kaapke, Marketing Director & Sales
[email protected]
Courtesy Aircraft Sales
5233 Falcon Road
Rockford, IL 61109 USA
(815) 229-5112
(800) 426-8783